A brand is not about getting a target market to choose one corporation over its competition, but about getting prospects to see the company as the only one that provides a solution to their problems.
A company should lay down brand objectives from the beginning. These are the organisation's characteristics, and they must reflect the organisation's philosophy, processes and image. A strong brand will build credibility and motivate your clients. For good corporate brand design, we need to be aware of two main elements: Design, as in an artistic representation and Design Strategy for Brand Identity, Quality, Community & Culture
Puro Design has provided professional design services to multi-discipline Engineering & Construction companies, the Financial & Law Consultancy & Training sector as well as Government Projects globally, allowing companies to visually communicate signature strengths, successful projects and enhance brand strength creating that first impression that counts.
Puro Design offer a comprehensive creative and visual communication service to Medium to Large Companies including but not limited to the following:
Company, Joint Venture + Project Logo Design
Corporate Branding
Corporate stationery + business cards
Electronic Letterhead, Quotations, Invoice + Purchase Order Templates
Professional Tender Proposal design + publishing
Company brochures + capability statements
Corporate CV's + company personnel profiles
Annual Report design + publishing
Print + email newsletters templates
Exhibition displays + merchandise
Advertising + editorials
Building Signage
Site hoarding + vehicle signage
Company notice boards + banners
Company Website + APP development
Project Specific / Joint Venture Websites & Community Stakeholder Information Sites
Client & Accounting Database Software
Project Management Software
Puro Design are brand specialists, we listen to your brand vision and turn it into a creative brand identity to be proud of.
---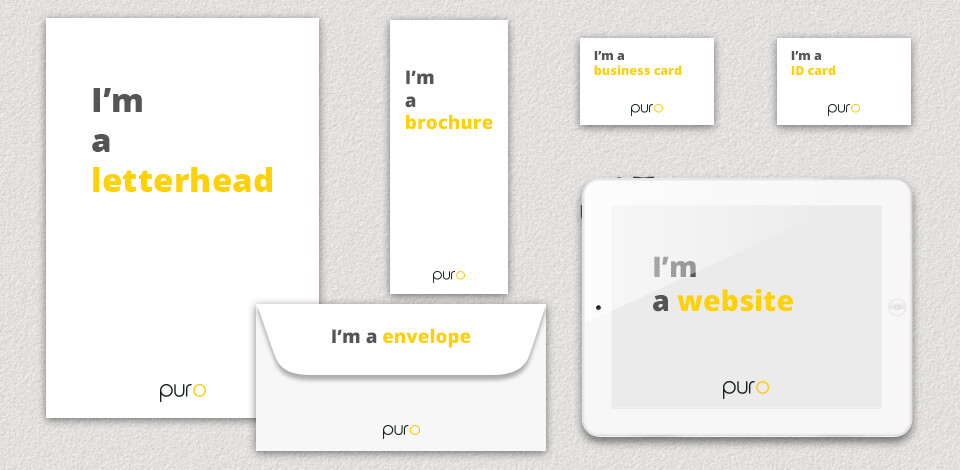 Does your company have an image problem?
If you are thinking about enlivening your business with a re-brand, why not take advantage of our FREE IMAGE AUDIT?